22 The Living Tapestry

A fairy queen weaves her life into a tapestry. When Catherine touches Bess' tapestry she is taken into Bess' dream. The boys follow to help their friend. Pleased by their bravery, Bess gives them gifts to help with their search.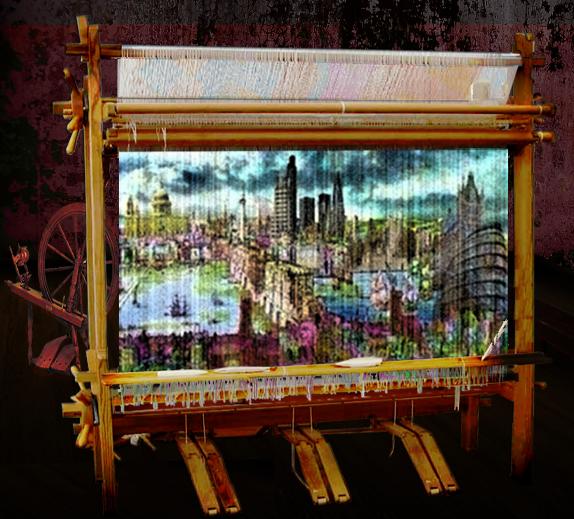 On the loom was a tapestry, as big as a carpet.
It seemed to trap the light & reflect it back in a glorious rainbow.
Art: Paul
Download Wallpaper
Catherine followed Polly down a drab corridor to yet another dilapidated room. This contained a vast loom upon which hung a tapestry as big as a carpet, hand knotted in scrumptious colours that seemed to trap the light and reflect it back in a glorious rainbow.
There were shades of crimson, carmine, vermilion, scarlet and cerise; blues from sky to sea; greens dark as swamp cypress at midnight, bright as a spring morning. Yellows of liquid sunshine bled into tawny amber and sunset orange. Royal purple, mauve, puce and fuchsia jostled russet, sepia and sombre ochre. Veins of copper, bronze, silver and gold marbled voluptuous violets, inky indigos and whites, pale as moonshine. Such polychromic splendour left Catherine giddy, breathless, and a little overwhelmed.
"Beautiful," she sighed, mesmerised by the shifting hues washing over the weave like skeins of mist.
"I saw London once," Polly confided. "But it ran from my eyes."
"I see it too!" Catherine faltered as ghosts of shimmering buildings, iridescent, pearlescent, lustrous, melted into the chaotic maelstrom of the tapestry.
"Where is it?" Polly demanded.
"There!" Catherine answered, stabbing the cloth with a finger and falling down as if dead.
from Chapter 19 The Living Tapestry

A recollection of London in Bess' tapestry

Want some more?

The instant they took Catherine in, the tapestry came alive. It was as if it had been waiting for them to step into Bess' presence. Erupting like a volcano, or a solar flare from the face of the sun, it spat streams of pure colour, which stained the floor and walls for an instant before fizzing into the ether. The eruption became stronger, bolder. Then just as quick died away.
It was not over. The tapestry had only paused, gathering its strength for one last push that came in a brilliant explosion of living light. A crazy rainbow bouncing from floor to ceiling, from wall to wall, sparking and spluttering white hot with every collision as it went ricocheting down the hall towards Catherine and the boys.
from Chapter 19 The Living Tapestry