A big thank you to Yola
This site would not have been possible without YOLA.

When I first signed up my head was swimming. I looked at Widgets and Properties and Keywords etc and thought they must be joking (actually, it was they must be bloody joking!). I thought I would never get the hang of this.

In fact Yola made the whole thing easy and a surprisingly pleasant experience. The Tutorials and the Help Centre are excellent and no matter how daunting something felt, I quite easily found the bit of help I needed from them, at that moment, and did not worry about the next part of the big picture until I needed to. And I am pretty damn well pleased with the result. Clever me. Clever Yola!

Thanks a million and here is your link (a well deserved mention)

A big thank you to FLICKR
All the artwork is very important to the site and as a bit of a klutz and technophobe I was worried about being able to do it justice. YOLA recommended Flickr and I thought ... NO this is too easy.

Well is was too easy, very easy. It does a great job and I am very happy with the results. So another big thank you to FLICKR. As FLickr is accessed through a YAHOO account, they get an honourable mention.
Here are the links
A big thank you to

for their simple to use interface for great button design.
I have not done them justice. Check them out yourself
A big thank you to Photoshop

Here is the link
A change in Gloria's work meant that she could no longer devote time to illustrations for the book. As I did not have enough illustrations, I felt I needed to do some of my own. The only problem was I could not draw.

While there is no substitute for an artist's eye, happily there is for the artist's hand. Photoshop was just what I needed.

It allowed me to produce complex photo collages, as if I were tracing bits from pictures I liked and reusing them in my own compositions. From there it was a short series of steps, using the powerful Photoshop collection of Adjustment tools and Filters, to turn a photograph into a drawing.

Let me give you an example from one of my photographic works:
The room is a picture of Apethorpe Hall from Google Images The image was altered to remove the fireplace and bring forward the back wall.
The picture of old Bess is a composite of 5 photographs from Google Images - old lady figure, someone's old mum on a bed jacket, hair from another old lady using clone stamp tool, slippers cut out and coloured, face of Helen Mirren as Elizabeth 1 (Channel 4) from the death scene merged with the original face from the image and smoothed out.

The picture of Queen Bess is compiled from 3 photos from Google Images - the dress from a display model from a touring exhibition of costumes. The hands, head, bosom and collar of Cate Blanchett in the film Elizabeth: The Golden Age, I merged her face with the face of Helen Mirren from the Channel 4 drama Elizabeth 1.

I took 4 copies of the completed figure of the queen and set different levels of visibility and then erased parts of the different figures to create the illusion of the queen appearing.
The portrait on the wall is a poster edges tool version of the Elizabeth figure. The frame is from Google Images - a picture of a man carrying a huge framed portrait of George Washington

The armchair, rug, electric fire, coffee table and TV are all cut from Google Images and are easily recognisable if you care to search under those terms.
Each object, such as the portrait, queen, old woman, TV etc was stored on a separate layer as so it was easy to move, changing size and even the perspective view.

I wanted the drawing to be more intimate, focusing on Bess and the queen, so I moved the portrait further along the wall, and the TV closer to the figures.

To create the drawing, I manipulated contrast and shadows and used the poster edges filter.

Thank you Google Images for being a fantastic resource

Thank you

for adding Thomas the Rhymer

to your brilliant and extensive collection
Thank you John Atkinson Grimshaw
I am a cheat, or if you did not like my explanation of what I did with Photoshop a bigger cheat.

Thomas the Rhymer features tiny golden fairies no bigger than your thumb, but I had no idea where to find them until I came across John Atkinson Grimshaw's (1836 - 1893) stunning work.
Some of his paintings, such as Spirit of the Night and Iris feature sprite like women, which I cut out, duplicated and used, with very minimum alteration. Check out his beautiful work at

John Atkinson Grimshaw : the complete works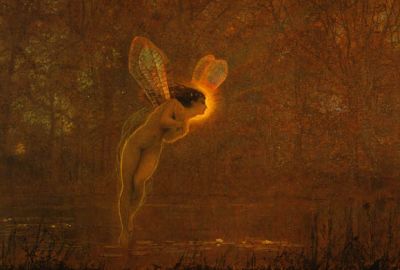 Thank you family and friends
Notable mentions to Russ, Susan and Gloria
literally could not have done it with out you

Thank you Catherine (1933 - 1992)